Repeat the following affirmation to reinforce the healing from old wounds.  As you repeat these phrases, take deep slow breaths, focusing on relaxing your body as you do.  It helps to  imagine your body being purified with healing light with every breath.
I honor all life experiences for the lessons learned.
I release any negative thoughts and emotions that do not serve my highest good.  
I allow myself to be filled with compassion and acceptance for all beings, bringing my mind and emotions into alignment with the love from within my heart.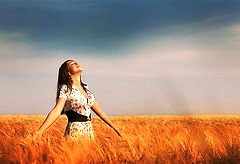 Through my path of healing I began to realize how important it is to let go and forgive.  When we hold onto negative feelings and thoughts we are only hurting ourselves.  In my holistic counseling practice I guide clients on this path of natural healing, by resolving trauma and pain from the past.  By focusing on the processes in holistic therapy we can bring about greater holistic health, mental health, emotional health and wellbeing.  A practice of meditation can speed up the process of self healing by bringing greater awareness to the Self.
When we use these mantras and intentions we are focusing our energy on creating the kinds of lives that we desire, letting go of beliefs about who we should be and how we should spend our energy.  Holistic healing happens naturally when we realign ourselves with our true nature, that of compassion and love.  blessings and good health!  I offer counseling in Oakland CA or via skype as well.