The Roots of Codependency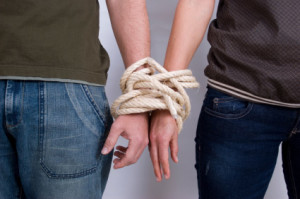 We all come into this world emanating unconditional love, joy, and peace. You can feel this in the energy of children, who express a natural vibrancy and joy just for the sheer experience of being alive. In the early stages of childhood, children give their love unconditionally, remaining open and in a state of innocence and presence. As a child grows, however, he or she begins to have the experience of feeling abandoned by their parents, of rejection from family and friends, and a belief begins to form in the young psyche that feeling unconditional love is neither acceptable nor safe. We form the belief that who we are in our essence is not okay. The implications of this are profound. We actually begin associating the idea of unconditional love and freedom with feelings of hurt, vulnerability, and even fear. In this way we learn to fear love, we learn to fear the very essence of who we are.
In order to protect ourselves from this pain, the ego begins to firmly take root in the developing psyche during childhood. We begin putting up defenses, guarding against others, and in the process, we begin expressing love conditionally. We learn to only give when we will get something in return. We begin limiting how much love we express, and in doing so, limit how much love we feel in our own lives.
In this deficit of love we begin to become self-centered, seeking to get our own needs met from others. And in times when we are unable to get our needs met from others, we often shut down, becoming angry, bitter, or frustrated. This creates conflict with the people in our lives, with blame often resulting; "if only you were behaving differently in some way, then I wouldn't have to be upset right now…I need you to change in some way so that I can be happy." In the moment, closing down serves as a form of self preservation. Though this defense mechanism allows one to survive, every time the decision is made to shut down, it enshrouds the heart in one more layer of forgetfulness—forgetfulness of the truth of who we are as loving beings. And there is no suffering greater than denying ourselves and others the love which is our natural expression.